Innovation Starts with a Community: Introducing the New Metallic Community! 
People and communities, large and small, are at the center of new ideas and innovation. Today, we are thrilled to announce the launch of our NEW Metallic Community, an extension of the Commvault Community, to celebrate those who drive our innovation — our customers. As we roll out new ways to improve Metallic, listening, receiving feedback and crafting the best user experience possible for our customers remain a top priority for us.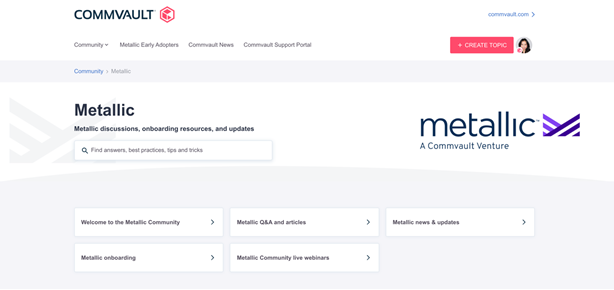 We built the Metallic Community with one goal in mind, to provide customers an easy way to exchange information, access resources and make the most out of Metallic. With the community, Metallic how-to's and training are easily accessible, and customers can connect with Metallic product experts and other fellow users to further exchange knowledge and expertise for tips and tricks, best practices and more. Additional resources including our new customer webinar series, Metallic Community Live, can also be accessed via the community along with video resources and user guides. Rest assured, our product experts, support and customer success teams will be actively engaging in the community to listen to customers, respond to questions, and gather feedback to improve Metallic.
So how do you get started with the Metallic Community?
Metallic customers including trial customers can access the Metallic Community directly from their dashboard inside the Metallic Hub or by going to community.commvault.com. We invite all our customers to login and check out the community today. As a bonus, we are welcoming Metallic customers to the new community with a chance to enter to win a new Xbox X. Metallic customers can check out the details posted on the community for how to enter on the Metallic Community by February 28, 2022.