Backup and Recovery for your Oracle Cloud Workloads
Metallic® on Oracle Cloud Infrastructure (OCI) proactively protects and secures your data against threats while accelerating your hybrid cloud adoption and modernizing your business.
Oracle Cloud Infrastructure is a great way to digitally transform your data estate. But while moving to the cloud can transform your IT operations, risks abound – from data sprawl to constrained IT resources to rampant cybercrimes. To successfully modernize your business, you need a smart data protection solution.
Resources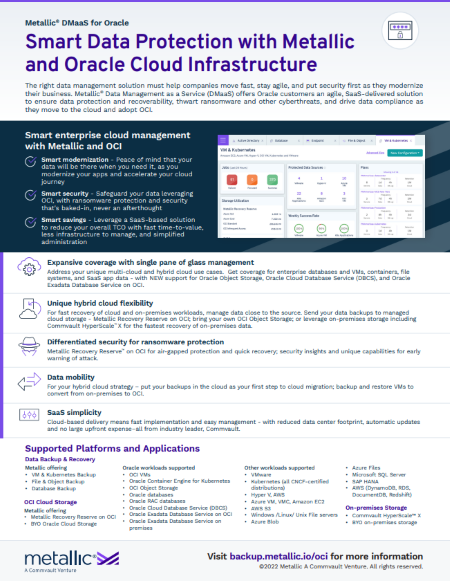 Datasheet
Smart Data Protection with Metallic and Oracle Cloud Infrastructure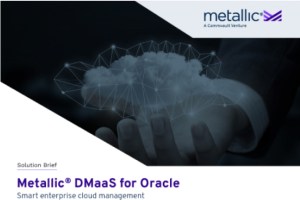 Solution Brief
Metallic Data Protection as a Service for Oracle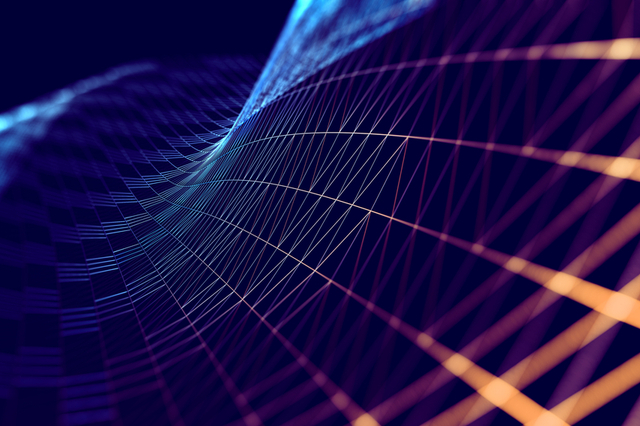 News
Metallic Expands Multi-Cloud Data Protection with Support for OCI
---
Interactive Demo Experience
Metallic supports a wide spectrum of workloads in OCI; our self-paced demo will show you how to easily recover OCI VMs with Metallic.
Click "Next" to get started!
Tailored to your needs
VM & Kubernetes Backup
You need a cloud-based DPaaS solution for your hybrid cloud environment. We have just the thing-protecting OCI VM, Oracle Container Engine for Kubernetes (OKE), Azure VM, Kubernetes, Hyper-V, VMWare and more.

Database Backup
The threat of ransomware attacks and data loss is real. Safeguard your structured data with Metallic Database protection for Oracle, Oracle RAC, Oracle Database Cloud Service (DBCS), Oracle Exadata Database Service on OCI, Microsoft SQL, Microsoft Azure, SAP HANA, and AWS.

File & Object Backup
Your data is growing, but your data protection doesn't have to be unmanageable. Protect OCI Object Storage, Azure Blob, Azure Files, Windows and Linux File Systems with the ease of SaaS.
It's your data. Anywhere. Everywhere.
Protect critical data assets in the cloud and across your entire data estate — with superior price and performance, built-in enhanced security, and simplified recovery and management for hybrid environments.
Benefits of Metallic + Oracle Cloud Infrastructure
Top security
Multi-layered security, with advanced tools and insights to safeguard your data on-premises or in the cloud.
Speedy recovery
Commvault's granularity, bandwidth optimization, and compression technology enables fast recovery. And unlike others, Metallic has a common code base across offerings to avoid tool sprawl.
Ultimate scalability
Scale from 100 to tens of thousands of users as your company's data continues to grow both locally and globally. Utilize exactly what you need right now and add users and data with no surprise costs or compromised performance.
Hybrid operations
Metallic is on-premises, in the cloud, and at the edge. Seamlessly integrate and manage your environments with our flexible SaaS architecture.
Maximized ROI
Metallic supports a breadth of Oracle workloads, from databases to VMs and Kubernetes. Take advantage of an all-inclusive TCO with no capex investment and savings on administrative overhead.

Get the facts
Everything you need to
know about Metallic and
Oracle at a glance.
Take the tour
Start a data backup for your hybrid cloud workloads in 15 minutes.
Get your free trial today!