Metallic Expands Multi-Cloud Data Management with Support for OCI
In today's climate, hybrid and multi-cloud is the de facto strategy for today's companies. This is why Metallic has focused on developing unique capabilities that allow companies to best secure and manage their data, wherever it lives – in a simple SaaS-delivered package of data management goodness. Our partnership news with Oracle is the latest development in our commitment to meet customers where they are on their hybrid- and multi-cloud journey, as we add support for Oracle Cloud workloads and enable joint customers to leverage enterprise-class OCI storage offerings within their data protection and security strategies.
Cloud adoption is up, risks are up
We've all seen how cloud adoption is accelerating, along with a need for multi-cloud solutions, with 89% of companies reporting a multi-cloud strategy. (1) Unfortunately, the timing of this cloud transformation comes at the same time as some unprecedented risks:
First, ransomware and new cyberattacks are quickly trending in the wrong direction. We've not only seen a massive spike in successful breaches, but also a growing sophistication in the nature of attacks. We've heard the adage before, it's not "if," it's "when" — creating new risk around data and system protection.
Second, constrained resources. Successful digital transformation takes new and unique skills, to drive change and accelerate to the cloud. This complimented with the well-publicized skills gap leads many IT organizations hamstrung in an already do-more-with-less world.
And lastly, hybrid cloud data sprawl. As companies drive to digital transformation faster than ever, business data is increasingly spread across every application, device, on-prem, and cloud environment. This multi-generational data sprawl is challenging to manage and safeguard, even more so now as hybrid cloud strategies take hold.
In this environment – enterprises need data management solutions that will ease the pain of ransomware – help them do more with less, and manage across multigenerational data sprawl in increasingly hybrid environments.
Customers lead the way
From the beginning, Metallic was built to uniquely address these challenges, with a simple, cloud-delivered solution that could effectively protect and secure data – and not only SaaS and cloud applications, but hybrid and multi-cloud environments as well. This differentiation has been a key driver for our success. As our customers ask for what they need, we listen – and Commvault's expanded partnership with Oracle, focused on OCI and Metallic, is a perfect example. We continue to expand our cloud workload protection to include not only Azure VMs and Amazon EC2 VMs, but now OCI VMs as well.
Customers running Oracle applications on premises needed a seamless path to protect against ransomware as they migrate to cloud (and back), adopt cloud-native applications, and leverage capabilities that might span multiple cloud environments. They can't afford to manage the complexity of multiple backup and recovery solutions. They want the efficiencies of SaaS. They demand sophisticated, layered security. Oracle also is committed to supporting customers' real-world needs – in partnership with Microsoft Azure for multi-cloud support, for example — and to help ease enterprise cloud adoption on their customers' terms. Our expanded partnership with Oracle pays off on all of this, helping enterprises leverage Oracle Cloud Infrastructure for their data security and protection needs – with flexibility and choice.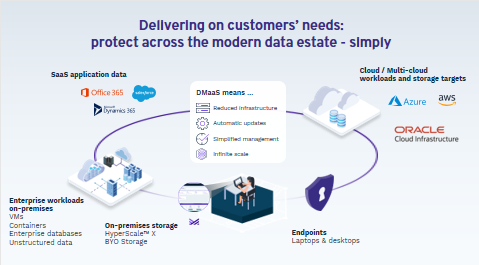 Because we know that there is no "one size fits all" cloud strategy, we help companies get the data protection they need across an expansive set of cloud workloads – while allowing customers the choice of using BYO cloud storage on Azure, AWS and now OCI, or choosing managed cloud storage in Metallic Recovery Reserve.
No other SaaS-delivered data management solution delivers this flexibility, and we are committed to continuing to expand to meet our customers' needs. Cloud is a team sport, and at Metallic, we are always on our customers' team.
Links:
(1) Flexera state of the Cloud Report, 2022