DMaaS Meets Managed Security: New Commvault Partner GM Sectec Announces Data Preserve Powered by Metallic
GM Sectec, a leading global Managed Security Service Provider (MSSP), today announced Data Preserve powered by Metallic, representing the first-ever global MSSP partner to deliver Metallic Data Management as a Service (DMaaS). GM Sectec's Data Preserve offering will deliver protection and fast recovery of cloud, SaaS, and on-premises workloads in the face of data loss or attack, as part of the company's holistic security offerings. We're thrilled to support GM Sectec for the benefit of their customers at a time when the threat of ransomware looms large, with risks continuing to rise.
A last line of defense, data backups are critical to any security strategy
Unfortunately, too many customers are unprepared for an attack when it comes to recoverability of their data. Named a top 250 MSSP globally and top 150 Cybersecurity Company, GM Sectec delivers cybersecurity offerings that span prevention, detection and response and now, recovery for companies around the world. As one of only 20 companies worldwide on the Payment Card Industry Security Standards Council (PCI SSC), and one of 23 Companies worldwide certified to perform Payment Card Industry Forensic Investigations with their own lab, GM Sectec noted in the course of security investigations that — far too often — data backups just didn't work. Through launching Data Preserve, powered by Metallic, GM Sectec is driving the conversation for their customers around data protection as an extension of security and recovery readiness.
Data protection and recovery is a critical part of any company's end-to-end security posture. Increasingly, it's not a matter of "if," but a matter of "when" a company will be targeted by cyberattack. The impact of inadequate backup protocol on businesses can be catastrophic, resulting in extended downtime, data loss, and the prospect of expensive ransom payments. Of course, the risks don't end with cyberattack. Ensuring air-gapped copies of data for fast recovery is critical to business continuity when also faced with the very real threats of accidental deletion or corruption, or malicious insiders. GM Sectec security monitoring services have even monitored and maintained operations in the face of natural disaster for their global customers, and Data Preserve, powered by Metallic, is now helping them be better prepared to quickly recover data in the event of loss and destruction. A secure cloud strategy with the right backup and recovery service can minimize these risks.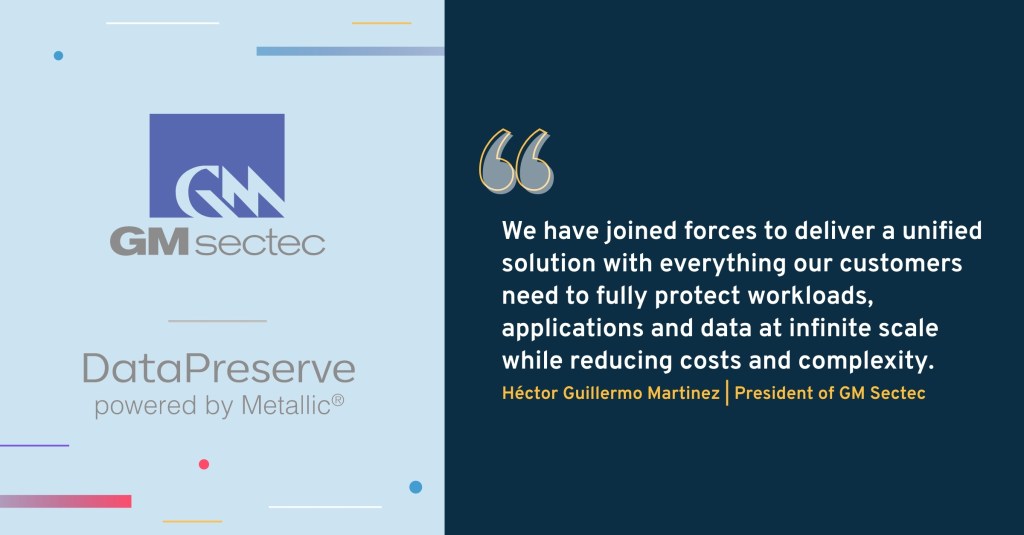 Trusting the data to recognized leaders
These are the benefits that GM Sectec is offering in securing business data, together with value-added managed services for companies looking to bridge an internal resource gap — with set up, monitoring and white-glove recovery services included. Because Metallic is built on industry-leading Commvault technology, which has been recognized as a 10-time leader by Gartner, GM Sectec customers can have peace of mind that comes from trusting their data protection to the best.
GM Sectec has built a reputation for offering managed security services that provide 24/7/365 data security oversight over 50,000 clients and end users worldwide. Now, by partnering with Commvault to offer SaaS-delivered data management solutions powered by Metallic, GM Sectec is empowered to help customers protect, preserve and recover from cyber threats while managing data close to the source for fast recovery. GM Sectec Data Preserve, powered by Metallic, delivers the complete Metallic portfolio for workloads including Office 365 and Dynamics 365, endpoints, VMs and containers, as well as databases and unstructured data, whether on-premises or in the cloud.
Learn more at : https://www.gmsectec.com/cyber-defense/managed-security-services/data-preserve/