Metallic® ThreatWiseTM
Data protection starts before you're compromised.
Actively defend your data with fully-integrated cyber deception. Uncover, contain, and minimize threats the moment a ransomware attack begins.
Early warning ransomware detection
Authentic decoys
Mask data, slow attacks, and divert bad actors from real resources and data. Flag recon, lateral movement and unwanted privileged access that bypasses conventional security tools.
Precision accuracy
Clear, decisive, and immediate visibility into threats – without false positives or alert fatigue with real-time insight into active and latent threats.
Lightweight architecture
Simple, cloud-delivered for rapid deployment, instant scalability, and reduced TCO. Reduce infrastructure footprint without complexity cost.
Defend your data. Don't just recover it.
With ThreatWiseTM patented deception technology, engage and surface threats across production environments.
Imitate real assets with authentic decoys
Divert bad actors into engaging false resources
Immediately flag malicious and ransomware activity
Reduce response time to uproot bad actors
Configure threat sensors across on-premise, cloud, and SaaS environments
Mimic real resources with preconfigured and specialized decoys along the path to business-critical assets
Expose sensors to bad actors only, invisible to legitimate users and systems
Flag recon, lateral movement, unwanted privileged access that bypasses conventional technology
Provide real-time insight into active and latent threats
Seamlessly integrate alerts with key security solutions
Deploy and scale in seconds, for immediate surface area coverage
Lightweight architecture – without the complexity, cost, or infrastructure footprint
Blog
New Data Protection Innovations – Accelerating Cyber Defense and Response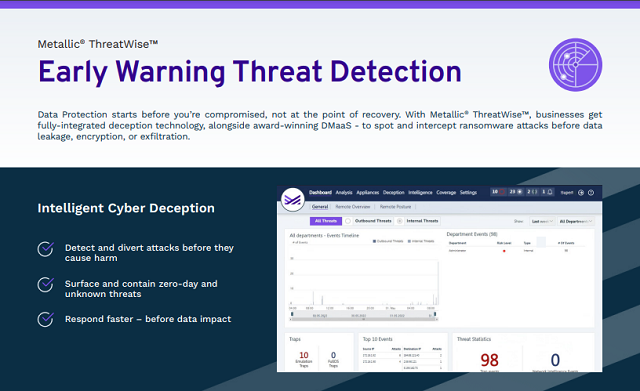 Datasheet
Early Warning Ransomware Detection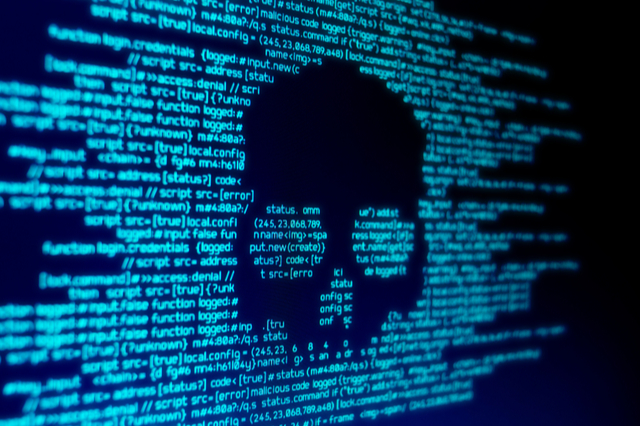 Solution Brief
Redefining Ransomware Detection with Metallic ThreatWise
ThreatWise
FAQs
No customer boundary is impenetrable. It's not a matter of if an attacker gets in, but when. Cyber deception is an active defense technology that provides businesses with a powerful one-two-punch; first slowing attacks down by diverting them toward fake assets and, second, simultaneously providing high-fidelity insights into potential attacks in progress.
Cyberthreats have reached record highs. And while traditional data protection solutions have played a pivotal role in recovering from these attacks, they often come into play when it's too late – after data has already been compromised. Integrated cyber deception proactively defends your data to spot and intercept before impact to your data, not just recover post-attack.
Threat sensors are highly versatile, lightweight decoys – capable of mimicking any resource, at scale (ie- databases, containers, VMS, and more). ThreatWise sensors are only visible to bad actors, and when engaged/interacted with, deliver a direct line of sight into threat activity to accelerate remediation effort – and contain threats before they reach your data.
Traditional deception solutions, help businesses learn from bad actors and their attempts. While valuable, these solutions are complex, take time to deploy, and consume IT resources (licenses, compute, etc.). Instead of enduring the time, effort, and cost to create virtualized assets, ThreatWise allows customers to rapidly deploy thousands of highly-specialized sensors across their environment in just minutes.
Interested in trying ThreatWiseTM for yourself?
Request a trial today!